Jennifer Aniston Weight

Actress Jennifer Aniston recently made comments about her weight. The former star of the smash sitcom Friends and the movie Horrible Bosses stated in an interview with Us Weekly, "If I was being super picky, I would love to drop five pounds." The actress continued by adding, "That is just where I have always been really comfortable at about 110 to 113 pounds. But it is harder at this age." Aniston's comments are bold and shocking in an industry where a person's weight can be a heavily guarded secret.
If Jennifer's numbers are to be believed, the actress currently weighs at least 115 pounds or up to 118 pounds.
According to Google's biography on the actress, Jennifer Aninston is five feet and five inches tall. She is also reported to be 45 years old. Using this data to calculate an ideal weight for a woman her size and age produces some surprising results using two different weight formulas found on www.calculator.net. According to the Hamwi weight formula, Jennifer Aniston's ideal weight would be 124.6 pounds. According to the Robinson formula, Jennifer Aniston's ideal weight would be 132.1 pounds. Either way, Jennifer Aniston's personal ideal weight is considerably below what science suggests is healthy for her.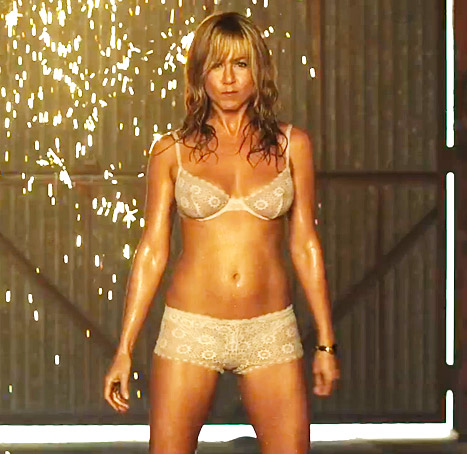 Of course, everyone knows celebrities tame, sculpt, and craft their bodies. It's part of their profession. It would be expected Aniston would desire her weight to be on the low side when she acts in roles that call for an attractive and thin woman. It's also to be commended that Aniston was willing to provide specific numbers about her weight. It still stands, however, that the ideal weight Jennifer Aniston suggests for herself is unhealthy for women her age and size. Critics may ask her to clarify her comments on her ideal weight in the near future.
Her Diet
As a fledgling 20-something actress, she admits she was overweight and says a nutritionist nearly threw her out of his office when she heard of her love of mayonnaise sandwiches, burgers and fried food.
As her career took off in the early Nineties, she mended her ways and lost 30lbs.
Over the years, her name has been linked to various diet plans including both the Atkins diet – which advocates cutting out all carbohydrates in favour of protein, fruit and vegetables – and the Zone Diet, which follows a 40:30:20 principle, relating to the ratio of calories obtained from carbohydrates, carbs and proteins.
More recently, her name has been linked to the New Atkins diet.
Its plan includes small portions of healthy carbs such as wholegrain bread, brown rice and pasta, while recommending healthy proteins such as grilled chicken, lean red meat and seafood.
References
Jennifer Aniston on Her Ideal Weight: I'm Most Comfortable Between 110 and 113 Pounds
http://www.usmagazine.com/celebrity-beauty/news/jennifer-aniston-ideal-weight-between-110-and-113-pounds-201488
Jennifer Aniston "Would Love to Drop Five Pounds," Feels Happiest in the 110-113 Weight Range
http://www.eonline.com/news/567550/jennifer-aniston-would-love-to-drop-five-pounds-feels-happiest-in-the-110-113-weight-range
jennifer aniston's height
https://www.google.com/?gws_rd=ssl#q=jennifer+aniston's+height&spell=1
Ideal Weight Calculator
http://www.calculator.net/ideal-weight-calculator.html?ctype=standard&cage=45&csex=f&cheightfeet=5&cheightinch=5&cheightmeter=180&printit=0&x=70&y=14