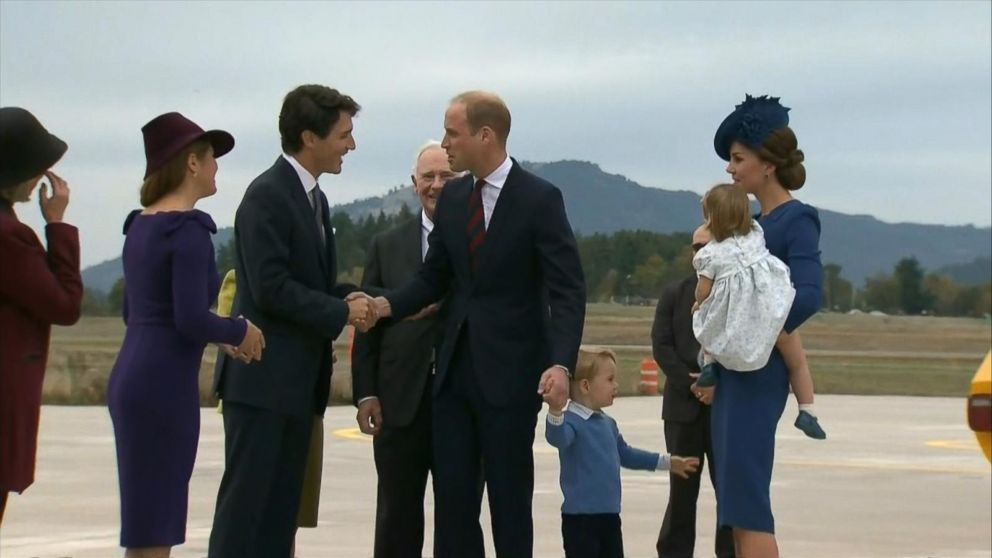 The Duke and Duchess of Cambridge have arrived in Victoria,Canada, bringing 16-month-old Princess Charlotte on her first international tour.Princess Charlotte and 3-year-old Prince George have joined the Royal couple on their trip to Canada. But it is unclear if they will join their parents on any official engagements whilst in Canada.
The family wowed welcoming crowds at 443 Maritime Helicopter Squadron, Victoria. The royal family posed for pictures alongside the Prime Minister, JustinTrudeau and his wife Sophie.They then transferred to British Colombia's Government house, where the family will be based during their stay in Canada.
This is the couple's second official tour of Canada, with William and Kate only having been married for 3 months the last time they visited the Country. This 8-dayofficial tour includes visits to British Colombia and Yukon, where the Duke and Duchess will go sightseeing, fishing and visit some First Nation people.
In his welcoming speech, William the Duke of Cambridge said he was looking forward to visiting some areas they had missed on their first trip in 2011.Which the Duke described as being more than they had ever been promised. Mentioning that on this trip, the couple were keen "to meet a variety of people" and to "learn how Canada is coping with difficult issues."
As advocates of the environment, family issues and mental health causes, William and Kate are expected to have some difficult outings. The Royal couple hopes to learn more about Canada's problems involving mental health issues, the Syrian refugee crisis and drug and alcohol addiction in young mothers. They will visit a range of dignitaries and indigenous people's whilst here.
Canadians hoping to meet the Duke and Duchess of Cambridge during their tour can view the official itinerary here.
Many people hope the royal sailing trip on October 1staboard Victoria's Pacific Grace will be the perfect opportunity for a family outing.However, keen to keep their children out of the limelight, William and Kate strictly control media access to their family. As such, it is unclear whether the children will be seen during the royal couple's visit.
The royals will spend a jam packed 8 days touring the province of British Colombia and the Yukon territory. They are expected to depart on October 1st, from Victoria, British Colombia.