Kristi Gordon Spider Scare Brings The Lol's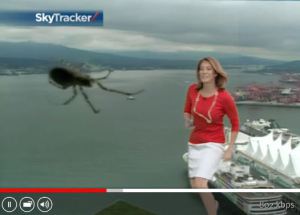 [caption id="attachment_66955" align="aligncenter" width="600"]
Kristi Gordon Spider Scare Brings The Lol's[/caption]Kristi Gordon's Spider Scare

On Monday, Global BC's Kristi Gordon got the surprise of her life. While the Canadian meteorologist was giving her daily live account of the weather, a spider crawled across the lens of a camera, projecting the spider's image on to the screen, reports the Huff Post.
Kristi screamed in panic when the spider appeared to be crawling above her head. She ducked down as she hustled away from the spider's image. She shook her hair as though the eight legged creeper could have crawled into it. She exclaimed, "Oh my gosh! That was creepy!" Her fellow coworkers got a chuckle out of her mishap. They started poking fun at her, stating that the spider was not even in the room.
When the spider crossed the screen, she ducked away from it a second time. She said, "I hate it. I can't stand it." Even though she was startled, Kristi managed to keep composer on air.
Kristi was already well known as the station's weather girl, but she has definitely made her name known with her spider scare. The video of the broadcast has reached millions since it has gone viral. She has received a lot of support from her fans.
https://twitter.com/KGordonGlobalBC/statuses/348195853925752832
https://twitter.com/KGordonGlobalBC/statuses/348196902715654144
[caption id="attachment_66956" align="aligncenter" width="600"]
While delivering her live report, meteorologist Kristi Gordon is caught off guard as a spider crawls across the weather cam.
[/caption]
Check out the video of Kristi Gordon Spider Scare
On The Web:
Meteorologist gets giant spider scare
http://media.smh.com.au/selections/meteorologist-gets-giant-spider-scare-4515515.html
Meteorologist Freaks Over Spider On Camera: Kristi Gordon Of Global BC Gets A Surprise (VIDEO)
http://www.huffingtonpost.com/2013/06/24/meteorologist-freaks-over-spider_n_3489549.html?utm_hp_ref=comedy
http://www.dailymail.co.uk/news/article-2347208/Meteorologist-Kristi-Gordon-gets-scare-SPIDER-crawls-camera-live-weather-broadcast.html