Big Sean Buys Naya Rivera Diamond Necklace For Christmas (PHOTO)
[caption id="attachment_77069" align="aligncenter" width="467"]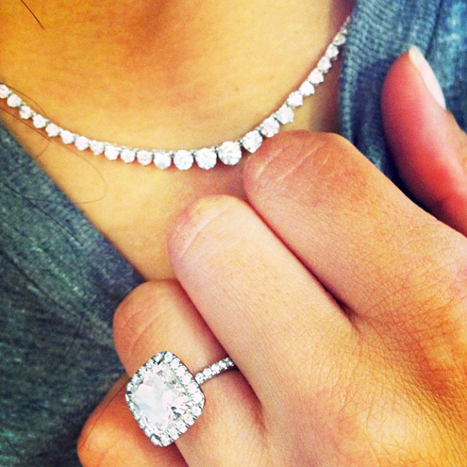 big sean naya rivera diamond necklace
[/caption]Naya Rivera Sports New Diamond Necklace from Big Sean

Naya Rivera, the 26-year-old actress from the hit show "Glee", has another reason to celebrate the holidays and it was a beautiful diamond necklace from her fiancé Sean Michael Leonard Anderson aka Big Sean. It is without question that the lovely Rivera makes a beautiful match with her rapper boyfriend. The diamond necklace complements diamond engagement ring very nicely. There is something deeply romantic about a man adorning his chosen lover with accents to her beauty.
Big Sean succeeded at impressing his wife-to-be as she proudly posted a picture of the necklace and her ring on Instagram. Women love being adorned and they love showing off those tokens of affection in public. It is not done out of a spirit of haughtiness, but rather an ebullient display of that feeling of additional self-worth their lover endows upon them.
It was only this past October that Rivera made the announcement of her engagement to Anderson which capped off a six-month courtship. Since that time, she has gone out wedding gown hunting with Kevin McHale, her Glee co-star, her baby sister Nickayala, and her mother Yolanda. By all accounts, her family is supportive of the relationship. The place where they went to search for a gown at was the upscale boutique called "Monique Lhuillier" in Beverly Hills.
On The Web:
Naya Rivera Receives Diamond Necklace From Fiance Big Sean For Christmas: Picture
http://www.usmagazine.com/celebrity-news/news/naya-rivera-receives-diamond-necklace-from-fiance-big-sean-for-christmas-picture--20132712