At 58, Julia Navarro Carrying Grandchild (PHOTO)
[caption id="attachment_77419" align="aligncenter" width="634"]
Touching: Lorena McKinnon, right, feels her mother's bump. The 32-year-old has had a dozen failed pregnancies and now her mother is acting as surrogate [/caption]Julia Navarro grandchild: Utah Woman Ready to Be Daughter's Surrogate Mother at Age 58

A Utah mother went the extra mile for her 32-year-old daughter and became her surrogate mother. Julia Navarro is 58-years-old and a grandmother, but she is currently undergoing another 9-month gestation period for her 32-year-old daughter Lorena McKinnon. It turns out Lorena would like nothing more than to be a mother, but she cannot carry a pregnancy to term.
It's not for lack of trying as she and her husband have attempted in vitro fertilization, but to no avail. Their three year quest for a child has resulted in a dozen failed pregnancies. That is what prompted Mrs. Navarro to behold the sufferings of her daughter and decide that she has a way to help Lorena become a mother: become her surrogate.
"As a family, we have to help each other," explained Navarro when asked about how she came to the decision. Now she's carrying the McKinnon's baby, a little girl who will be her first grandchild.
"I was praying, 'If this baby works, I am going to help others,' " said Navarro, explaining that "I would like to donate some of the money from my baby shower [Jan. 12] to children in Peru who don't have parents or moms or dads who need help."
[caption id="attachment_77421" align="aligncenter" width="634"]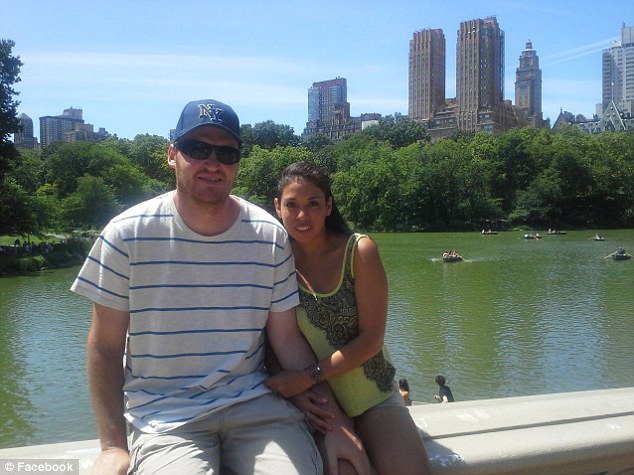 A mother's gift: Young couple Micah and Lorena McKinnon (pictured) have been trying to have children for the past three years, but struggled to get pregnant. Finally, Lorena's mother stepped up to volunteer as surrogate [/caption]
Both Mrs. Navarro and the McKinnons had to take counseling for three months to ensure they were mentally prepared for the process as dictated by the 2005 Utah Parentage Act.
"The psychologists wanted to make sure we knew what we were getting into — that we were mentally prepared," McKinnon said. "Mostly, surrogacy contracts are with people you don't know. It was weird to have a contract with my mom."
Once that completed, Mrs. Navarro was cleared for her hormone treatments. It should be noted that the treatments are physically difficult and often leave her bleeding and bruised. Thus far, the procedure is a success as Mrs. Navarro is well into her third and final trimester.
Navarro had been menopausal for 12 years prior to serving as a surrogate for her daughter.
"It's worked out better than I ever expected," says Micah McKinnon, Lorena's husband. "I didn't want to get my hopes up, but we haven't had any complications. I'm pretty happy about it," added the soon-to-be father.
The baby is due is a few weeks.
Original Story Below:
58-Year Old Utah Woman to Birth Own Grandchild
A 58-year old resident of Provo, Utah didn't want to sit idly by after learning that her daughter and son-in-law couldn't conceive a child naturally. So Julia Navarro decided to give her daughter the gift of using her own body as a gestational surrogate. She is carrying her daughter's baby to term, with an expected delivery sometime this February. Her daughter, Lorena McKinnon, has tried unsuccessfully over the past three years to conceive a child, only to experience miscarriage more than ten times.
Although Lorena's sister and best friend briefly considered carrying a child for her, it was ultimately decided that mom Julia was the right candidate. Navarro underwent medical testing and had to endure 90 days of hormone shots to prepare her body to receive a fertilized embryo. Doctors were cautiously optimistic about her chances for successfully carrying the child to term, with a less than 50 percent success rate due to her age. But Navarro has had a happy and healthy pregnancy with what will be her first grandchild. The family found out last year that the child she is carrying for her daughter is a girl. Both mom and daughter have grown closer over this experience.
[caption id="attachment_77420" align="aligncenter" width="634"]
58-year-old Julia Navarro is serving as a surrogate for her daughter, 32-year-old Lorena McKinnon.
[/caption]
On The Web:
Julia Navarro grandchild: I'm carrying my daughter's daughter! Grandmother, 58, is 32-year-old daughter's surrogate after she suffered a DOZEN failed pregnancies
http://www.dailymail.co.uk/news/article-2535568/Mother-58-offers-32-year-old-daughters-surrogate-DOZEN-failed-pregnancies.html
Utah mom to give birth to daughter's daughter
http://www.utsandiego.com/news/2014/jan/08/utah-mom-to-give-birth-to-daughters-daughter/
Julia Navarro grandchild: Utah mom to give birth to daughter's daughter
http://www.sfgate.com/news/medical/article/Utah-mom-to-give-birth-to-daughter-s-daughter-5126704.php