Olga Graf wardrobe: Russian Speedskater Has Wardrobe Malfunction
[caption id="attachment_79351" align="aligncenter" width="600"]
Olga Graf wardrobe[/caption]Russian Speedskater Wins Bronze and Has Wardrobe Malfunction

Sochi, Russia - Russian speed skater Olga Graf took home the bronze medal for her native Russia, but had a wardrobe malfunction of sorts. Graf wasn't expected to medal, but she put forth her personal best time before the hometown crowd at Adler Arena and it was enough to propel her to a surprise bronze medal. It is a fact that did not escape the audience which erupted into cheers for her medal winning 4 minutes, 3.47 seconds performance.
Apparently, Graf dug in deep for this performance and after doing a victory lap, she quickly unzipped the front of her uniform from her neckline to her belly button. The trouble is Graf really didn't have any under layer which exposed her bare chest to the audience and cameras. It should be noted that Graf didn't reveal anything that she would be embarrassed about. However, she did make it pretty clear that she's a pretty hot lady.
Speaking through a translator, Graf explained that the suits the speed skaters wear are very tight so that the skater is eager to loosen things up and breathe easier. She was a bit sheepish over the incident, but it was all good. The incident didn't take anything away from the performance of her lifetime.
[caption id="attachment_79352" align="aligncenter" width="500"]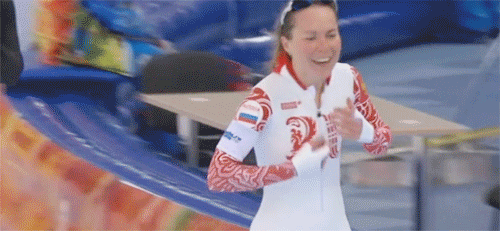 Olga Graf wardrobe[/caption]
[caption id="attachment_79354" align="aligncenter" width="500"]
Olga Graf wardrobe[/caption]
On The Web:
Olga Graf wardrobe mishap
http://www.people.com/people/package/article/0,,20778965_20785226,00.html
Dolphins protect Adam Walker from shark: Swimmer Gets Escort From Dolphins (PHOTO)